Redwood trees are some of the tallest and oldest trees on the planet. Their sheer size is something of amazement! California Redwoods, grow to size of a 35 story skyscraper. They well exceed 300 feet tall & can reach 10 to 20 feet in diameter or even more. It's hard to image something so large growing from a seed that is about the same size as that of a tomato.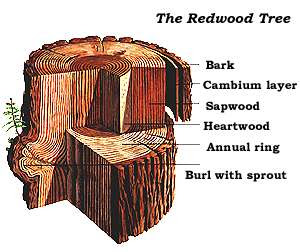 They can reach the age of 2,000 years old. These ancient trees support a rich mosaic of wildlife. In addition to being magnificent and grandios, they are a mystery. While there are many theories, no one has any proof as to why they grow so tall. There is a natural resistance to enemies like insects and fire. They have an unusual ability to regenerate which aids in their survival as a species. New sprouts can come dirctly from a stump. or from the root system of a downed tree as a clone. Though the new trees take time to grow and the old ones are being lost at a rate too fast for the new ones to match the loss.
Logging is the most often the cause of death for mature redwoods. Unfortunately, today the work needed to protect redwood forests is more complex than ever before. There are still ancient redwoods slated for cutting. Redwood lands already protected in state and national parks face threats such as government budget cuts. These cuts close parks, leaving no personnel to protect redwoods from threats such as illegal logging and pollution. Some of these lands are still struggling to recover from years of past damage and neglect.
This is our ode to the great Redwood trees! L'Anciene is a canvas image of an ancient Redwood tree, the oldest beings on our planet. Stable, Tall & true.